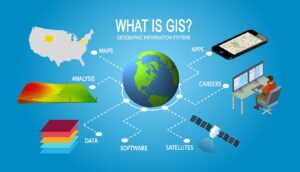 In today's data-driven world, Geographic Information Systems (GIS) have become indispensable tools for a wide range of applications, from urban planning to environmental management. However, with the multitude of GIS tools available, selecting the right one for your specific needs can be a daunting task. This comprehensive guide will help you navigate the world of GIS tools and make an informed choice.
What is GIS?
GIS is a technology that captures, stores, analyzes, and presents geographic data Analysis. It combines hardware, software, data, and human expertise to understand patterns, trends, and relationships within spatial information. GIS tools are used in various fields, including:
Urban Planning: To design and manage cities and infrastructure.
Environmental Management: For conservation, natural resource management, and monitoring.
Public Health: To track disease outbreaks and healthcare resource allocation.
Transportation: For route optimization, traffic analysis, and logistics.
Agriculture: To optimize crop management and precision agriculture.
Key Considerations for Choosing GIS Tools
Data Needs: Determine the type of data you'll be working with—geospatial, remote sensing, or demographic data. Ensure that the GIS tool can handle your data formats and sources.
Functionality: Define your specific requirements. Are you focused on data visualization, spatial analysis, data editing, or a combination of these? Different GIS tools excel in different areas.
Ease of Use: Consider the user-friendliness of the software, especially if you're new to GIS. Look for tools with intuitive interfaces and comprehensive documentation.
Scalability: Think about future growth. Will the GIS tool be able to accommodate larger datasets and more complex analyses as your needs evolve?
Compatibility: Ensure that the GIS software is compatible with your existing systems and workflows. Integration with other software and GIS data sources is crucial.
Cost: Determine your budget, and consider not only the initial purchase or subscription cost but also ongoing maintenance and support expenses.
Popular GIS Tools
There is a wide range of GIS tools available, catering to different needs and budgets. Here are some popular options:
ArcGIS by Esri: A comprehensive suite of GIS software with a wide user base and extensive resources. It's used across various industries.
QGIS: An open-source GIS tool known for its flexibility, user-friendliness, and active community support.
GRASS GIS: A powerful open-source GIS software selection mainly focused on geospatial analysis and remote sensing.
Google Earth Engine: A cloud-based platform for geospatial analysis, especially suitable for environmental GIS applications.
MapInfo Pro: A GIS tool that specializes in location-based analytics and mapping for businesses and government agencies.
GeoServer: An open-source server software for sharing, processing, and editing geospatial data.
Training and Support
Regardless of the GIS tool you choose, investing in training and support is essential. Many GIS tools offer official training programs, webinars, and user communities. Consider taking advantage of these resources to maximize your proficiency with the chosen tool.
Conclusion
Choosing the right GIS tool is a critical decision that can greatly impact the success of your projects. By considering your specific needs, functionality requirements, scalability, compatibility, and budget, you can navigate the vast landscape of GIS tools and select the one that best fits your goals and objectives. Whether you're an urban planner, environmental scientist, or business analyst, the right GIS tool can be a powerful ally in making informed decisions and solving complex spatial Data Visualization challenges.