The wheels on new school buses across the country go round and round, but they're pretty much the only things that make noise.
School districts in every state are beginning to roll out electric buses to transport children to and from school, with a big financial boost from the federal government.
Vehicles are better for the environment and children's health, research has shown. They're also quieter, and free of the black smoke and diesel fumes synonymous with the nearly 500,000 buses that carry 25 million American children to and from school every day.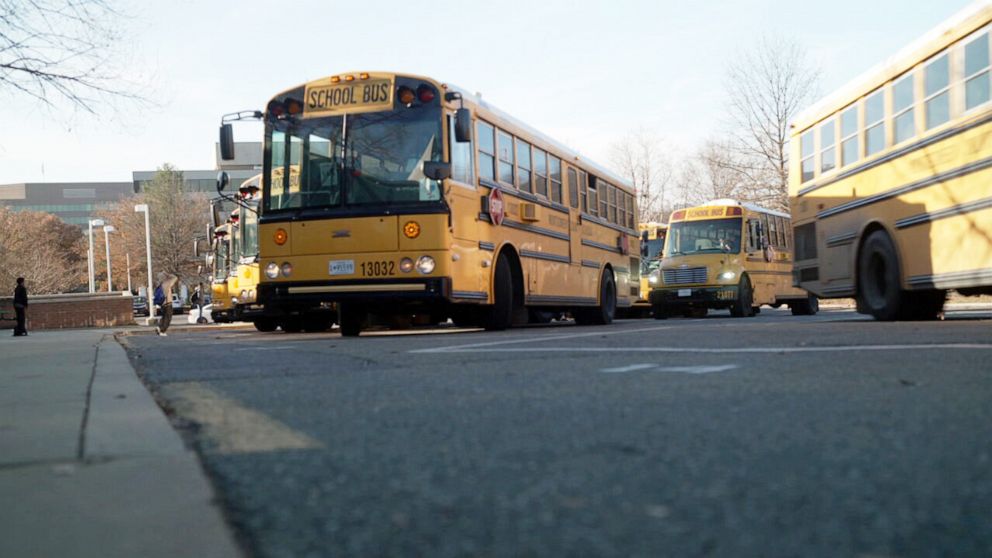 $5 billion for thousands of buses
As part of a new program funded by the bipartisan 2021 infrastructure act championed by President Joe Biden, the Environmental Protection Agency will award $5 billion over five years to school districts across the country to help them transition to environmentally cleaner vehicles, mainly those that work with electric motors.
In the first round of funding in 2022, EPA awarded $948.8 million to 403 districts in all 50 states, as well as Washington, DC, and several territories and tribes.
The agency, which prioritized low-income, rural and tribal communities, said the money will pay for 2,571 zero- or low-emission buses, including 2,446 that run on electricity, 109 on propane and 16 on compressed natural gas.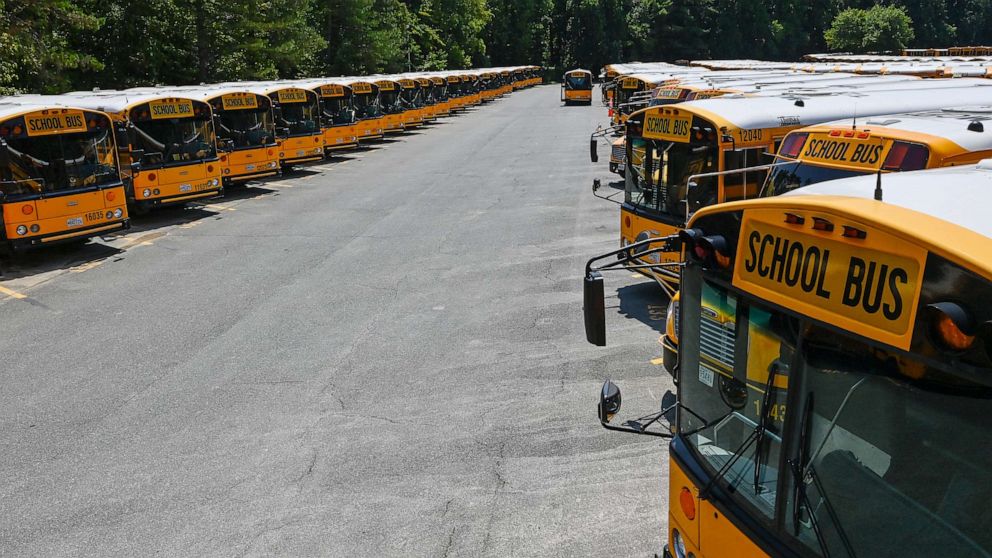 Students push for change in Maryland
Change is already showing in suburban Maryland, where the Montgomery County Public School system has begun transitioning its fleet of more than 1,400 buses, one of the largest in the country, to go fully electric in the coming 10 years.
In 2021, the district, outside Washington, placed the largest order for electric buses of any school district: 326 vehicles, which it plans to roll out through 2024. At the end of last year, it had 86 in its fleet.
Superintendent Dr. Monifa McKnight told ABC News that the students riding the buses had been the biggest advocates for the change.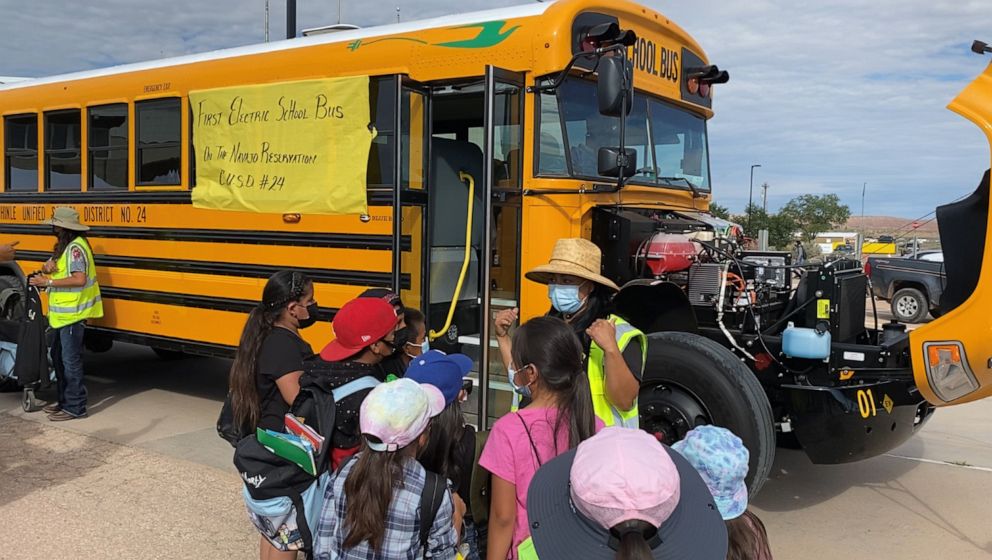 "Our students would come and testify at board meetings and really push us to reflect on how we were improving our carbon footprint," McKnight said. "Our county, Montgomery County, has a climate action plan that is very progressive, and the school system should be a part of that."
Switching to electric buses will help the system meet its goal of reducing its greenhouse gas emissions by 80% by 2027 and 100% by 2035, McKnight said.
By pushing for more zero-emission vehicles, advocates point to not just the environmental and climate benefits, but the health benefits as well.
Children, whose lungs are still developing, are particularly vulnerable to diesel exhaust, according to the EPA.
Studies in recent years have shown that when children are exposed to less diesel exhaust, their lungs work better, they miss less school and score slightly higher on tests.
"When we remove these diesel emissions, we see the health implications, but we're also reducing the exacerbation that we see from transportation on climate change and global warming," EPA Administrator Michael Regan told ABC News.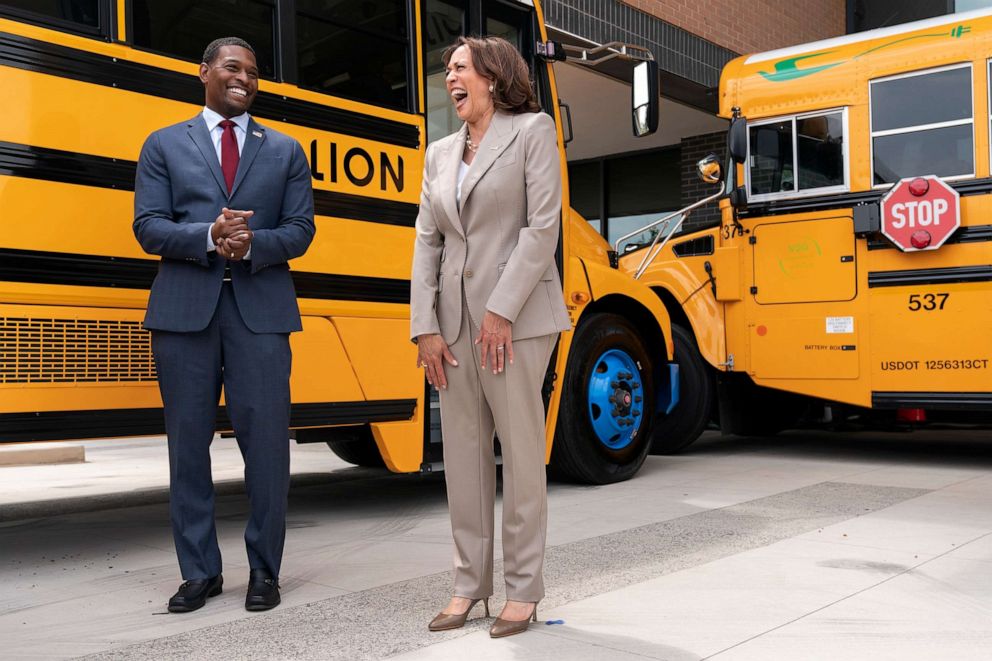 'A true awakening'
Regan said without funding from the infrastructure act, it would likely take decades more for districts to transition.
"This is a great opportunity for us to electrify our transportation system, really increase our manufacturing, but also solve very serious health and environmental disparities," he said.
Experts say school buses lend themselves to electrification as drivers have set morning and afternoon routes and travel relatively short distances, and the buses can be parked in between, charging their batteries.
Maryland has mandated that all new school bus purchases be electric by 2025, while New York will require all of its new buses to be zero-emissions by 2027.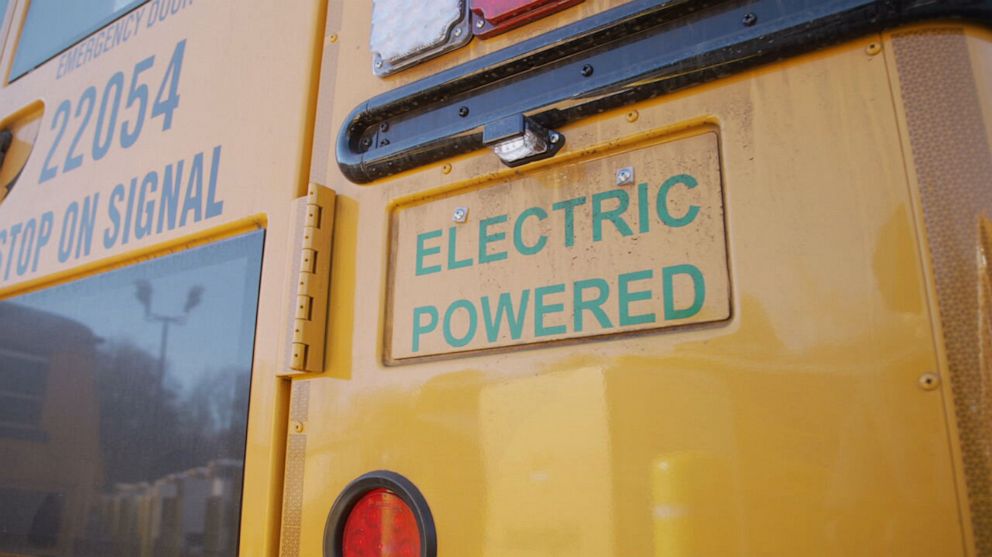 "There seems to be a real awakening that electricity is what the future of the student transportation industry is going to be," said Kevin Matthews, director of electrification for First Student, the largest operator of school buses in North America.
First Student said it expects about 300 of its 46,000 school buses to be electric starting in the first half of this year. She is working with a dozen US school districts to deploy 170 buses as part of the EPA program.
Each school bus carrying students takes 35 cars off the road, Matthews told ABC News.
"When you convert that to zero emissions, the air quality improvement is even significantly greater," he said. "So the overall benefits are quite high for the environment, for the children, and for the communities where the school buses operate."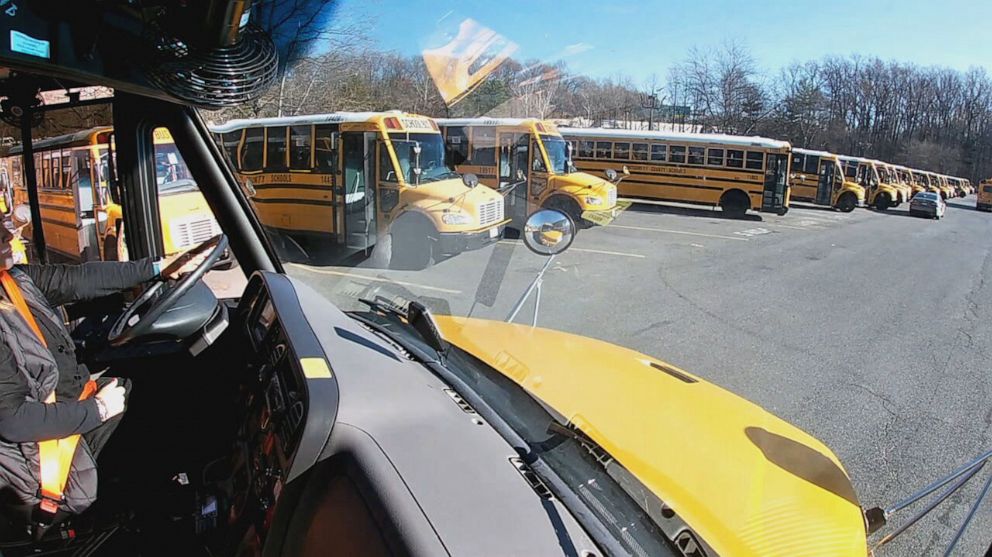 Kids now 'have to be careful what they say'
Sheila Martinez, who has been driving buses for Montgomery County Public Schools for eight years, told ABC News that she loved driving an electric vehicle.
"It's quieter, it's smooth, the [air conditioning] it works very well, the heating works very well," said Martinez, who switched to an electric bus last year. "It's perfect."
Martinez said electric buses break down less often and she can often fix any problems herself by resetting the bus systems, just like she would a faulty computer. She said she's found that the smoother mechanics of her electric bus have also made it easier, physically, on her body as she drives it.
Kids love it too, he said. But, she added with a laugh: "With an electric bus, they always have to be careful what they say because I can hear them."
And that actually makes the experience safer, he said.
"It's better," he said, "because you can pay more attention to what's going on around you."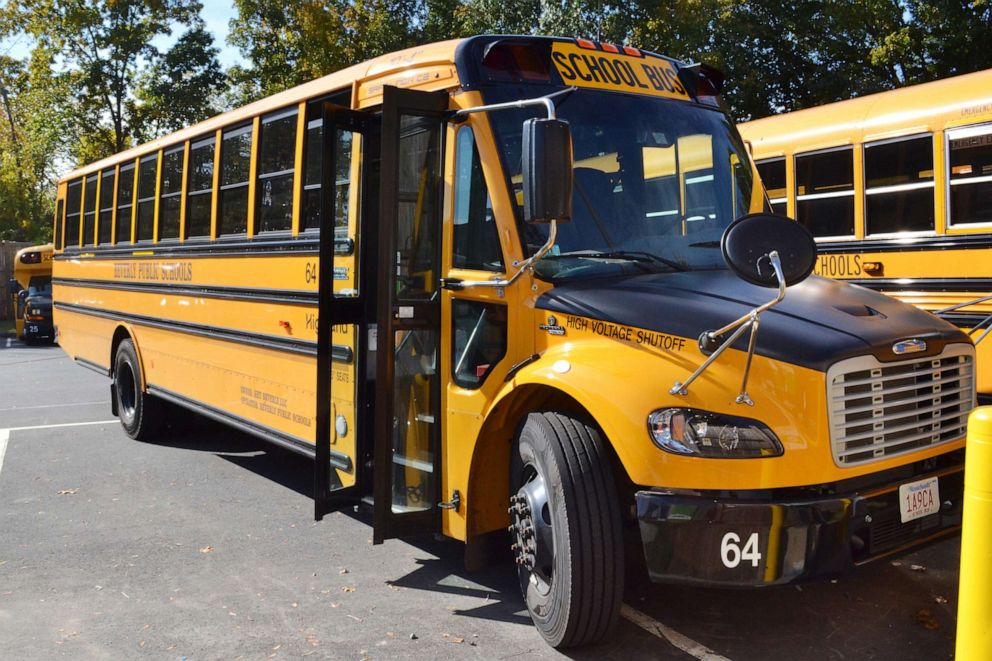 The cost
Montgomery County Public Schools says the total cost of switching to electric buses is the same as if the buses ran on diesel, thanks to thousands of dollars saved each day in fuel costs and reduced maintenance needs. of electric vehicles. (The fleet uses 17,000 gallons of diesel fuel each day, according to the district.)
Its schools are leasing their buses from Massachusetts-based Highland Electric Fleets: The $1.3 million, four-year contract also includes electricity and maintenance, while Highland plans to take advantage of parked buses by pumping their extra electricity into the grid.
"As a superintendent, I always try to reflect on: what are the needs of our district and where are there places we can save?" McKnight said. "We are building trust in our community by showing them that we are being fiscally responsible."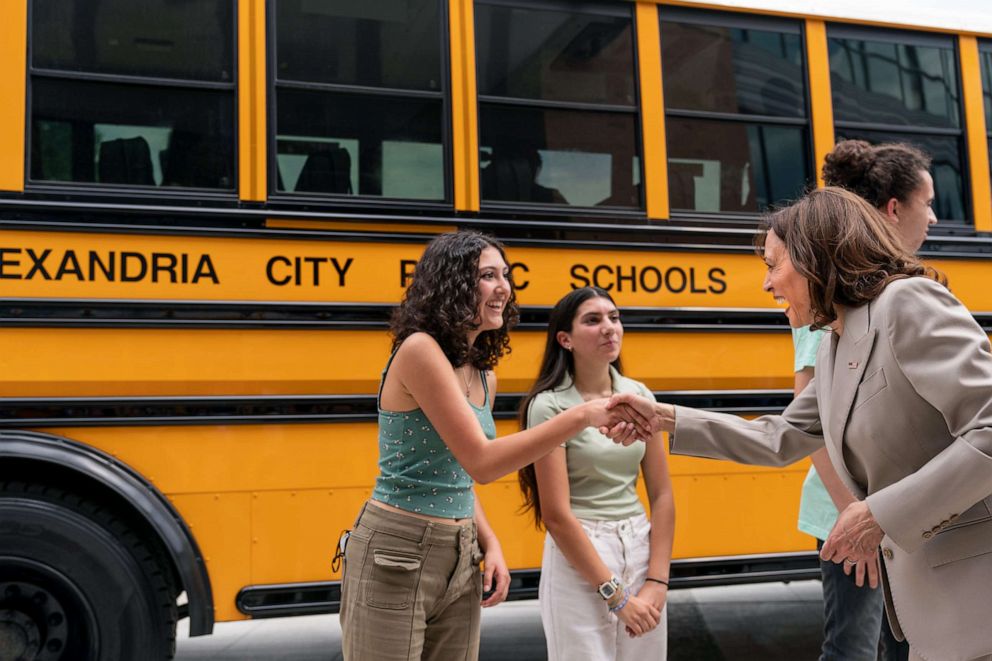 But not all school districts have had the same level of flexibility to begin the transition to cleaner vehicles, even with the federal government's new program, according to Susan Mudd, a Chicago-based policy advocate with Environmental Law. & Policy Center.
Some school districts that don't own their own buses like Montgomery County, often low-income districts that rely on contractors, have struggled to get federal dollars because of a government requirement to identify one scrapping diesel bus for every one that would be replaced with a cleaner one, Mudd told ABC News.
Regan said the EPA's top priority is getting diesel buses off the road and that the agency wants to "make sure these dirty diesel school buses don't go from one school district to another."