Fentanyl pills and suspicious firearms were reportedly found during a traffic stop on State Highway 19 North Sunday night.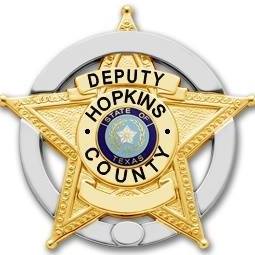 Hopkins County Sheriff's Office Deputies Ryan Reed and Sgt. Scott Davis reported that he stopped the gray Honda Accord without license plate lights at 11:02 pm on January 15, 2023 on State Highway 19 North at FM 71. Contacting the California man who was driving, officers asked him to get out of the automobile. . When he displayed signs of what officers described as "deceptive behavior," including lying about his criminal record, the officers asked permission to search the car.
When the 39-year-old Placentia, California man denied the request, warning that he would prefer to have a K-9 conduct a sniff around the car, Deputy Colt Patterson was asked to take his fellow K-9, Chiv, to the place. Patterson granted the request and deployed Chiv to conduct an outdoor sniff around the car. Patterson reported that Chiv tested positive for the smell of narcotics inside the vehicle.
Officers placed a handcuffed Nathanael Kenneth Cowie and conducted a search. A semi-automatic pistol was reportedly found on him. A search of the car reportedly turned up an "AK-47-style pistol and a 12-gauge shotgun," numerous items of drug paraphernalia scattered throughout the car, as well as Narcan, a potentially life-saving nasal spray medication that can revive patients. someone who has overdosed on opioids. In the trunk, officers reported finding an unlabeled pill container and unmarked white pills inside, officers said in the arrest reports.
All items identified as contraband were seized and the car was impounded. Cowie was transported to the Hopkins County Jail along with the contraband at 11:42 p.m. on January 15, 2023. The contraband was photographed, weighed, and field tested. The pills had a positive reaction that led officers to suspect they were fentanyl pills or pills with traces of fentanyl in them. The suspected fentanyl weighed 21.2656 grams, officers alleged in the arrest reports.
As a result, Cowie was booked into the Hopkins County Jail at 4:56 a.m. on January 16, 2023 for a second degree felony possession of 4 grams or more, but less than 200 grams of a controlled substance charge. from Penalty Group 1/1-B. and a Class A misdemeanor unlawful possession of a weapon, according to the arrest reports.
Cowie remained in the Hopkins County Jail later Monday, Jan. 16, 2022, on both counts, bail set at $35,000 for the controlled substance charge and $2,000 for the weapon charge, according to jail reports.
---
The Hopkins County Sheriff's Office is located at 298 Rosemont St., Sulfur Springs, TX 75482. Non-emergency calls can be made at (903) 438-4040.

(function(d, s, id){ var js, fjs = d.getElementsByTagName(s)[0]; if (d.getElementById(id)) {return;} js = d.createElement(s); js.id = id; js.src = "https://connect.facebook.net/en_US/sdk.js"; fjs.parentNode.insertBefore(js, fjs); }(document, 'script', 'facebook-jssdk'));