NASA's DART mission tests whether it is possible to deflect an asteroid that threatens Earth & More Latest News Here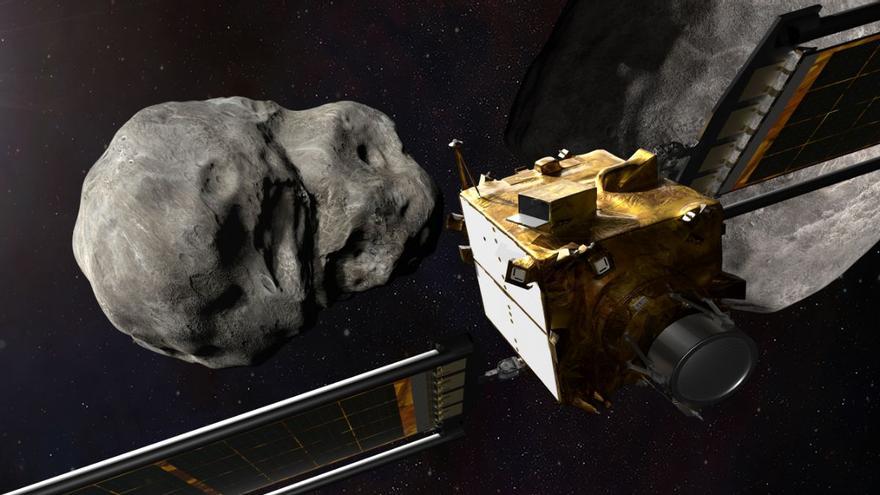 NASA's Double Asteroid Redirection Test (DART) spacecraft will gently collide with the harmless asteroid Dimorphos on Tuesday, September 27. It will thus execute the first asteroid deflection test, which has been planned for years, and which could save the Earth from destruction if it crosses the path of an asteroid that represents a real danger in the future.
On September 27, at 1:14 AM Spanish time, NASA's DART spacecraft will collide slightly with its target, the asteroid Dimorphos, seeking to slightly change its orbit. It will be the first test mission of planetary defense designed to evaluate the results of the kinetic impact method, which consists of modifying the course of an asteroid potentially dangerous for the Earth through a subtle impact that does not generate fragments.
It is worth clarifying that Dimorphos it does not constitute a real danger for the planet, it will only be used to test the technique. The asteroid, 150 meters in diameter, is 11 million kilometers from Earth and is the "moon" of a binary asteroid system, which orbits around a larger asteroid, Didymos, which has a diameter of 800 meters.
European and Spanish participation
The momentum of the 600-kilogram spacecraft, traveling at a speed of 6 kilometers per second, will generate a small change in the speed of Dimorphos, which will be detectable from ground-based telescopes as a variation in the orbital period of the asteroid system. Subsequently, the hera mission of the European Space Agency (ESA) will visit the asteroid Didymos after the impact of NASA's DART mission against Dimorphos: the two asteroids will be mapped in high resolution, in addition to collecting additional information on the system.
Inside of the scientific team Spanish astrophysicist Josep Maria Trigo-Rodríguez, from the Institute of Space Sciences (ICE-CSIC) and member of the Institute of Space Studies of Catalonia, participates in NASA's Double Asteroid Redirection Test (DART) mission. According to a statement from the Higher Council for Scientific Research (CSIC) of Spain, Trigo-Rodríguez stressed that the DART mission will try to better understand the key points that influence the effectiveness of the method to be tested.
He explained that a projectile without explosive charge It will "dig" a small crater in the asteroid, sending material from the body's surface away from the projectile. The efficiency of this process will be directly related to a greater or lesser deviation of the asteroid. At the same time, the scientist explained that it is necessary to better understand from this experiment other factors that could influence the effectiveness of the technique.
an unusual geometry
In the same vein, researchers from the Lawrence Livermore National Laboratory (LLNL), in the United States, have recently published a new study in The Planetary Science Journal, in which they analyze different aspects of the geometry of the spacecraft and its potential influence on the success of the mission.
According to a press release, research lead scientist Mike Owen indicated that the initial logical departure was to think of a simple solid geometry for the craft, such as a solid cube or sphere. However, the geometry of the DART spacecraft, designed specifically for this mission, creates a much larger "footprint" than a solid sphere of aluminum with the same mass.
This affects the cratering process and ultimately the impulse imparted to the asteroid, reducing it by 25%. The specialists will seek to determine in this real experience how this characteristic of the ship influences the success of the process and, mainly, how it could affect future missions against larger targets.
Reference
Spacecraft Geometry Effects on Kinetic Impactor Missions. J.Michael Owen. Mallory E. DeCoster, Dawn M. Graninger, and Sabina D. Raducan. The Planetary Science Journal (2022). DOI:https://doi.org/10.3847/PSJ/ac8932
NASA's DART mission tests whether it is possible to deflect an asteroid that threatens Earth
& Latest News Update
I have tried to give all kinds of news to all of you latest news today 2022 through this website and you are going to like all this news very much because all the news we always give in this news is always there. It is on trending topic and whatever the latest news was
it was always our effort to reach you that you keep getting the Electricity News, Degree News, Donate News, Bitcoin News, Trading News, Real Estate News, Gaming News, Trending News, Digital Marketing, Telecom News, Beauty News, Banking News, Travel News, Health News, Cryptocurrency News, Claim News latest news and you always keep getting the information of news through us for free and also tell you people. Give that whatever information related to other types of news will be
NASA's DART mission tests whether it is possible to deflect an asteroid that threatens Earth
& More Live News
All this news that I have made and shared for you people, you will like it very much and in it we keep bringing topics for you people like every time so that you keep getting news information like trending topics and you It is our goal to be able to get
all kinds of news without going through us so that we can reach you the latest and best news for free so that you can move ahead further by getting the information of that news together with you. Later on, we will continue
to give information about more today world news update types of latest news through posts on our website so that you always keep moving forward in that news and whatever kind of information will be there, it will definitely be conveyed to you people.
NASA's DART mission tests whether it is possible to deflect an asteroid that threatens Earth
& More News Today
All this news that I have brought up to you or will be the most different and best news that you people are not going to get anywhere, along with the information Trending News, Breaking News, Health News, Science News, Sports News, Entertainment News, Technology News, Business News, World News of this made available to all of you so that you are always connected with the news, stay ahead in the matter and keep getting today news all types of news for free till today so that you can get the news by getting it. Always take two steps forward
Credit Goes To News Website – This Original Content Owner News Website . This Is Not My Content So If You Want To Read Original Content You Can Follow Below Links