We use affiliate links. If you purchase something through the links on this page, we may earn a commission at no cost to you. Learn more.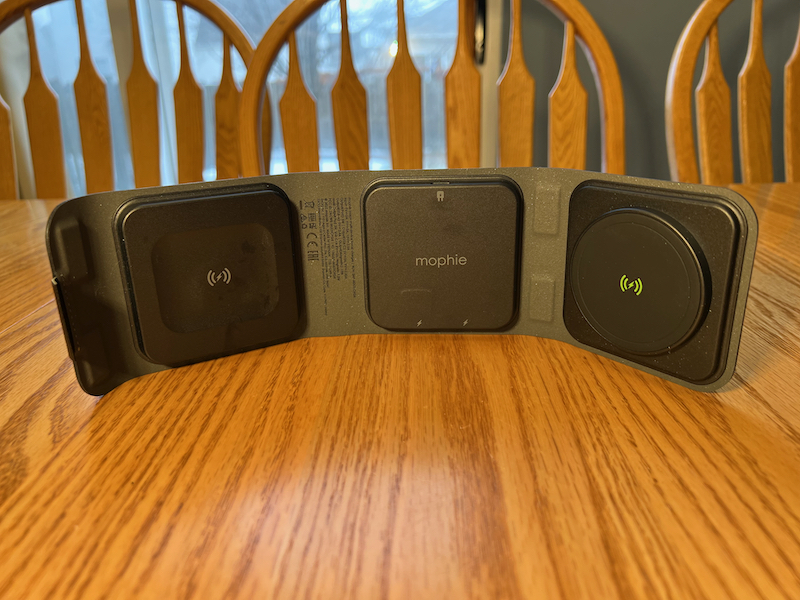 REVISION – Charging on the go while traveling, at the office, or even at a coffee shop can be a real hassle. You need separate chargers, various types of cables, and finding enough power outlets can also be a problem. Chargers with multiple USB-A and USB-C outlets are nice, but you still need to keep a variety of cables on hand. With the mophie snap+ Multi-Device Travel Charger, you can ditch some of those cables and charge multiple devices, including two wirelessly, with one kit that includes everything you need to get started.
What is?
The mophie snap+ multi-device travel charger (hereafter referred to as snap+) is a foldable, portable charging kit that includes a Qi pad for a compatible phone, a Qi pad for compatible Bluetooth headsets, and a USB-A port and Outlet. USB-C, along with a charging pad, USB-C cable, and bag to carry it all.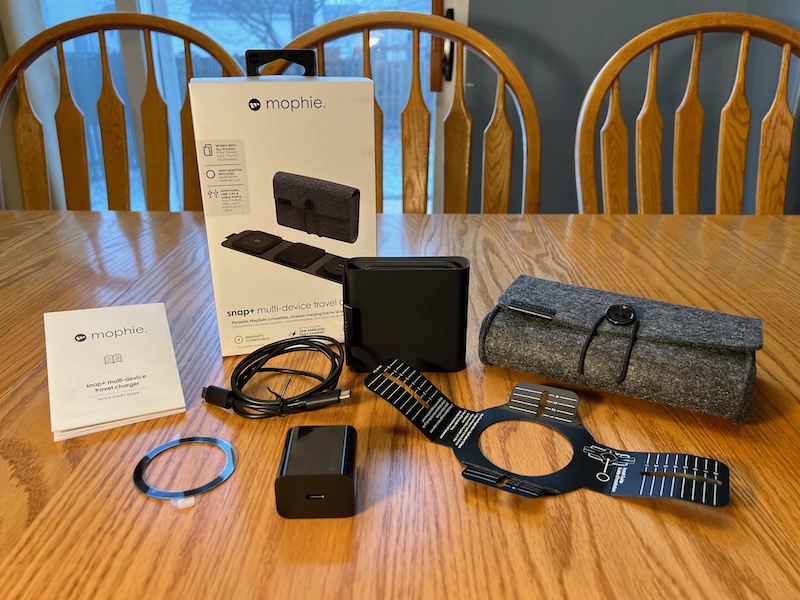 What is in the box?
mophie snap+ wireless charger
USB-C wall adapter
Charging cable (USB-C to USB-C cable)
pressure adapter
press adapter alignment guide
Quick Start Guide
travel case
hardware specifications
MagSafe-compatible
Magnetic Qi Pad: 7.5W for iPhone, up to 15W for Android
AirPods charging pad: up to 5W
USB-C port: up to 20W PD
USB-A port: up to 12W
Multiple output: AirPods Pad 3W, USB-C+A 15W, Qi Magnetic Pad: 7.5W
Colour: Black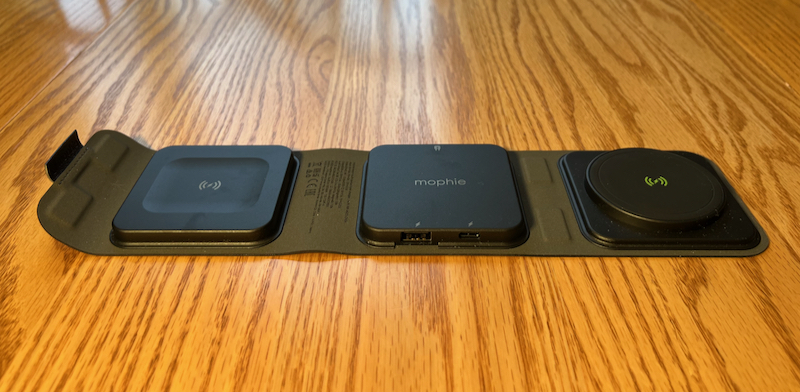 design and features
The mophie snap+ multi-device travel charger is made up of three black plastic charging squares, two of which are Qi-compatible wireless charging pads, the third has the USB-C input on one side and a USB-C and USB output. -A on the other. The three squares are connected to each other by a soft, flexible plastic and everything folds up into a compact size for travel. There are magnets on the small flap at the end that help keep the magazine closed when folded. The bundle also includes a 30W USB-C charging pad and a USB-C to USB-C cable, both in black. The entire kit is packaged in a handsome thick gray felt travel case, which has an elasticated loop that clips over a button on the flap to keep it closed.
The charger can support up to four devices at once, two of which are wireless and two of which are wired. The wireless pads can support iPhone or Android phones on one side and AirPods or other Qi-compatible Bluetooth headphones on the other. The USB-C port can output up to 20W and the USB-A port can output up to 12W.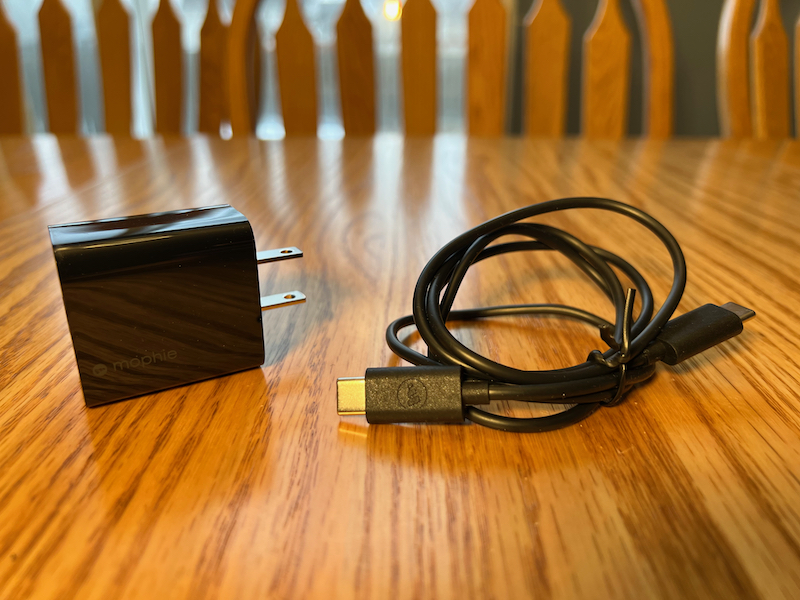 Installation and configuration
All you have to do to get the mophie snap+ Multi-Device Travel Charger ready to go is plug the USB-C cable into the charging pad and charging pad, then plug the charging pad into the wall. Once that's done, simply place your device on one of the Qi pads or plug a USB-A or USB-C cable into the central charging square.
The larger Qi pad is MagSafe compatible so it attaches magnetically to iPhones, while it only puts out 7.5W for iPhones, it will also charge Qi-compatible Android phones up to 15W. My Pixel 6 charged easily and even attached magnetically to the pad, but alignment was a bit difficult to achieve. mophie included a little magnetic ring they call a snap adapter, which can be stuck to the back of a phone to help align the charge. mophie includes an alignment guide to help position the adapter on the back of the phone. I temporarily attached the adapter to the back of my Pixel 6 and reattached the case to the phone and the charge rate increased noticeably (as measured in the Ampere Android app).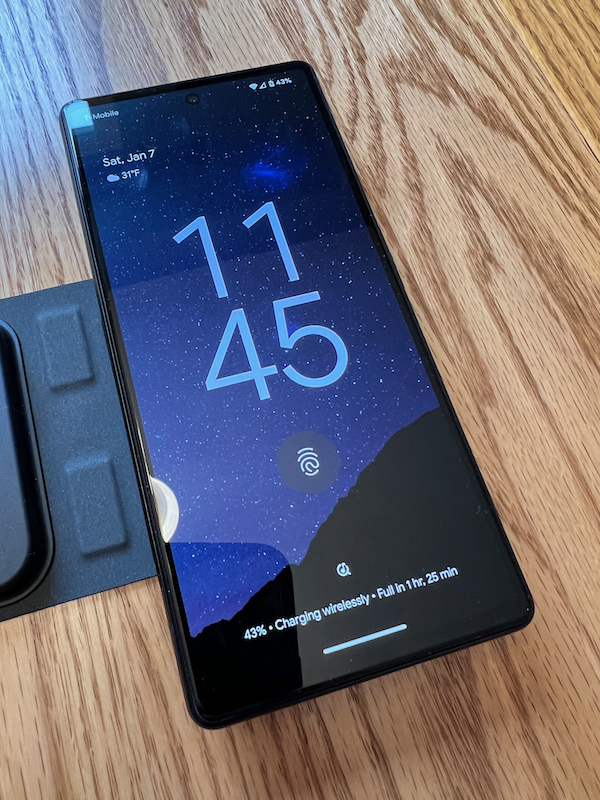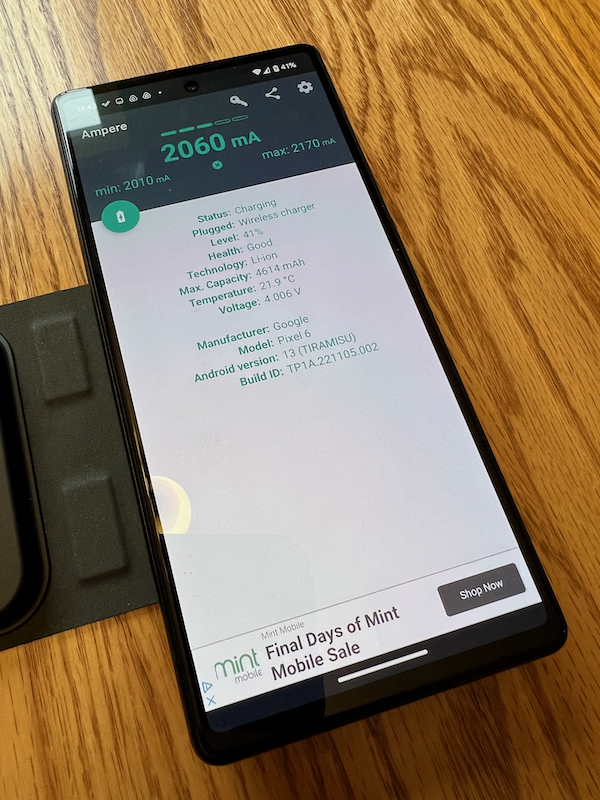 In use
The mophie snap+ Multi-Device Travel Charger is convenient for travel or anywhere you need a multi-device charger to help reduce some of the clutter of cables and charging pads plugged into what often ends up being very few outlets. On a recent trip, I used the snap+ to charge my iPhone 13 Pro Max, my Apple Watch Series 4, and a pair of Bluetooth headphones, which unfortunately don't support Qi charging. I used the larger Qi pad for the iPhone, the USB-A outlet for my Apple Watch charging puck, and the USB-C outlet for the Bluetooth headphones. Because I was charging these devices overnight, I didn't have to worry about slower charging speeds while charging multiple devices. I would say this charger is better for overnight charging if you have multiple devices because you don't get the full amount of wattage from each outlet when charging more than one device at a time.
I've also tried various scenarios with my two phones, a TCL Android tablet, a different pair of Bluetooth headphones that are Qi-compatible, and a rechargeable flashlight. All four devices charged simultaneously, though when I connected the TCL tablet it limited the pad's main Qi output and the Pixel phone had trouble staying in charging mode. The charging indicator at the top of the screen next to the clock stayed on, but the Ampere app kept telling me "Not charging" and "measuring". I guess he was getting confused because not much current was going into the phone. I let it charge for five minutes like this and the phone's charge percentage didn't go up. I tried the same with the iPhone, which also indicated that it was charging, but after five minutes its charge percentage had not increased either. I'm sure with more time it would have loaded a bit, but much slower than the fastest speed available.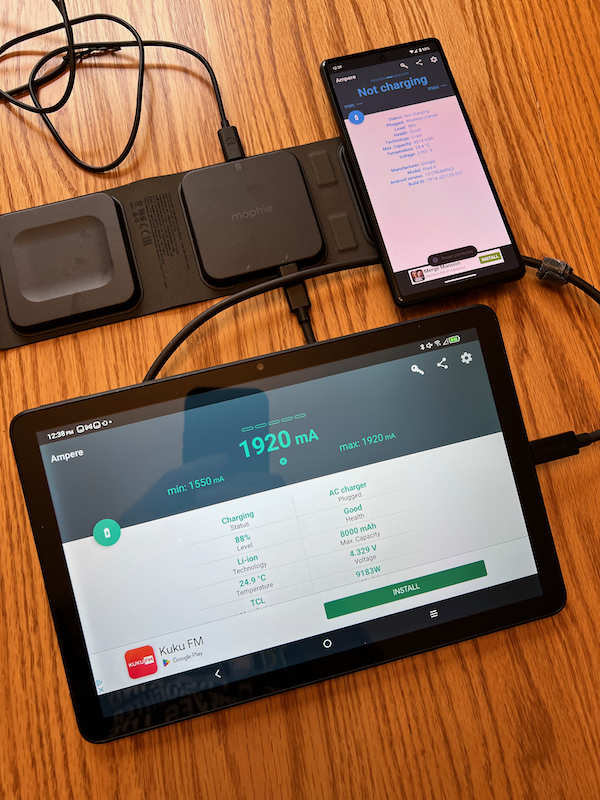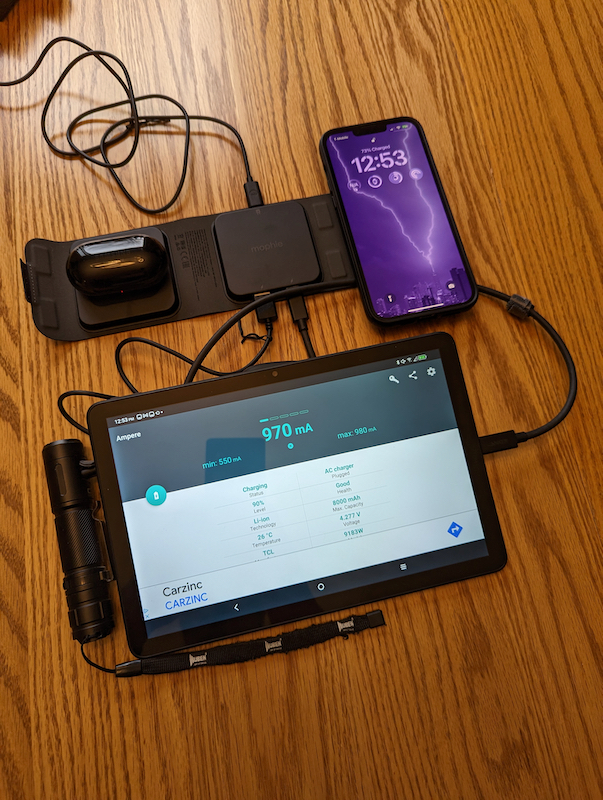 The TCL tablet also slowed down its charging speed with multiple devices connected, charging at about half the speed of when it was alone. I noticed an interesting thing while charging this tablet. I initially tested the charger with my iPad Pro and used the USB-C cable that came with the iPad. I used the same cable with the TCL tablet and noticed that it seemed to charge quite slowly. I switched to another USB-C cable and the charging speed more than doubled. I'm guessing Apple's cable isn't rated for the highest speeds available with PD charging from an Android tablet. This is interesting proof that not all USB-C cables are created equal.
I didn't notice the charging block or charging pads getting hot while charging, although I'm sure they will get hot with a long charging time.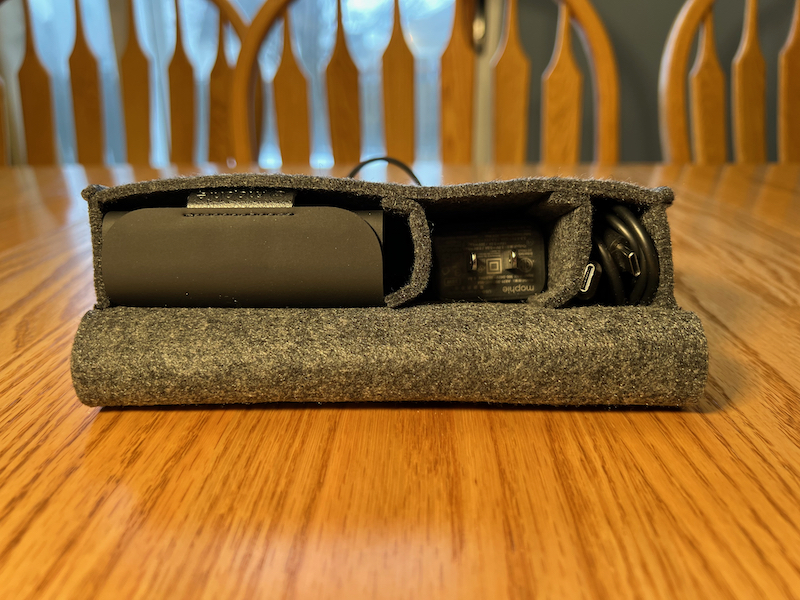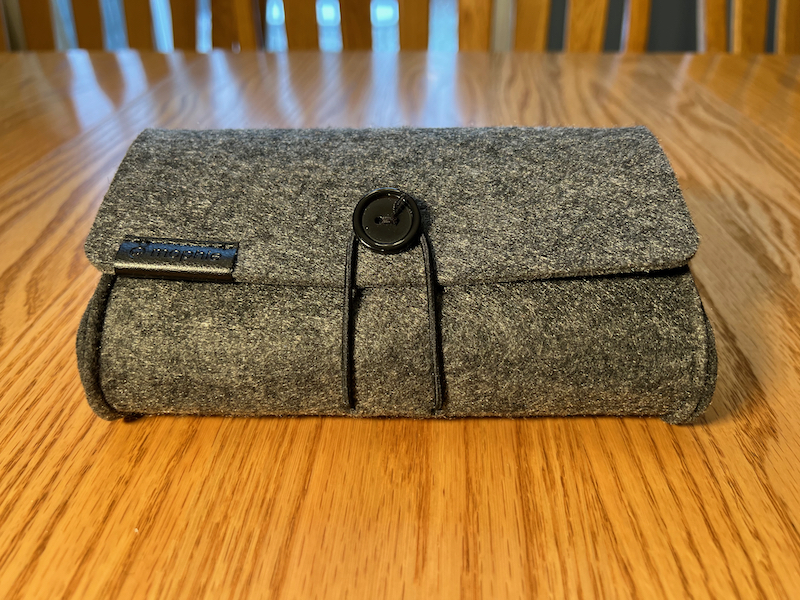 What I like
I like being able to charge multiple devices, especially without the need for extra cables when charging just a Qi-enabled phone and Bluetooth headphones.
Everything fits in a nice travel case
what would change
15W MagSafe charging would be nice
More overall charging power output when charging multiple devices
final thoughts
I find that I rarely use single device chargers. Most of my chargers can charge at least two devices at once, though several can do more. The mophie snap+ Multi-Device Travel Charger fits the bill as a perfect solution for times when I want to keep multiple devices charged without having to lug around so many different chargers wherever I go.
Price: $99.95
Where to buy: zagg.com or amazon.com
Font: mophie provided the sample for this review. For more information, visit their site.