Meloni, Salvini and Berlusconi promise 5 years of stability in Italy & More Latest News Here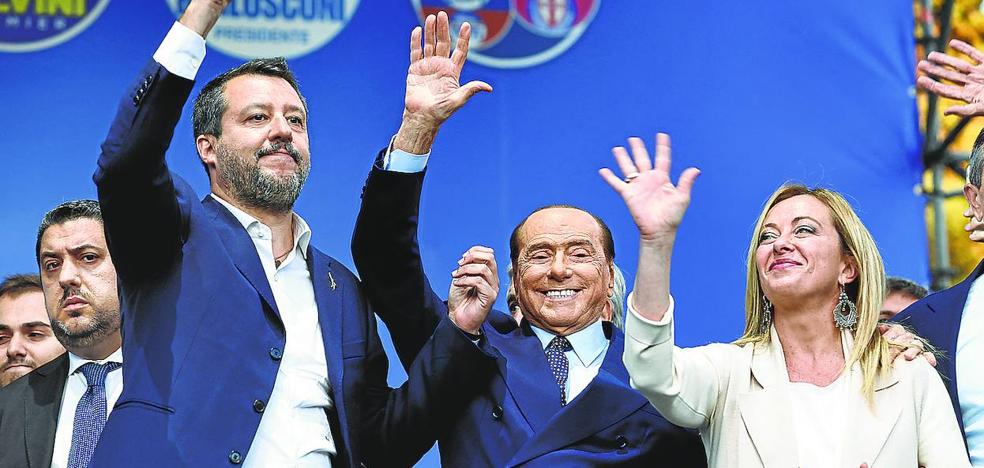 The candidates of the conservative bloc parties close the campaign ahead of Sunday's elections with a massive rally in Rome
Italians may come out of Sunday's parliamentary elections with a mother, a father and a grandfather to look after them for the next five years. Giorgia Meloni, Matteo Salvini and Silvio Berlusconi, leaders of the three conservative parties that, according to all the polls, will win widely in the imminent appointment with the polls, put the finishing touch to the campaign with a massive rally held this Thursday in Rome in which they appealed to the feelings of the Italians: they proposed themselves as the only alternative to solve their problems and give them back the pride of a country resigned to living for decades in perennial decline. They also promised a united government during the five years of the legislature.
In a Piazza del Popolo taken over by the supporters of Fratelli d'Italia (FdI, Brothers of Italy), Meloni's party, which leads the polls, and in which the flags of the League and Forza Italia were barely visible, the former taking the floor was the veteran leader of this last political force. In one of his few public campaign outings, in which he has preferred to focus on TikTok videos recorded from his office, Berlusconi grabbed the microphone to present himself to voters as the voice of experience, as the grandfather to trust. It was not a bad strategy: about to turn 86, the four-time former prime minister claimed his baggage in the Government and, in particular, the "magnificent foreign policy" that his Cabinets developed.
It was an implicit way of telling Italians that they can rest easy with Forza Italia in the next Executive and that the country's position in the European Union and NATO is not in danger. This is not a trivial concern given Meloni's sympathy for the Hungarian president, Viktor Orbán, a champion of Euroscepticism. Salvini, in addition, for years has boasted of his friendship with the Russian president, Vladimir Putin, whose party, United Russia, was twinned with the League. "We are the Italy of good people, families and companies. We want to build an Italy with more well-being, more security and more freedom," said the tycoon before launching cheers "Giorgia" and "Matteo."
The latter, who is satisfied with being the next Minister of the Interior because Meloni has eaten the field among conservative voters, repeated over and over again that his goal is "to protect Italy and Italians." Like the father who lectures his teenage son when he starts going out at night, Salvini enumerated the dangers facing the country and offered solutions for everything. He began with the work, assuring that with the right in power he will lower the electricity and gas bill, and even promised to call a referendum if the European Union does not back down on its intention to ban the sale of combustion cars to from 2035, a measure that threatens the Italian car giant Fiat. "We will not allow Europe to think of kicking workers out of factories to create jobs in China," Salvini cried.
christian identity

When he was presenting himself as the "protector of the environment, which is not a patrimony of the left", the bells of one of the churches in Piazza del Popolo rang, to which he reacted quickly to defend the Christian identity of Italy against the supposed threat that, in his opinion, supposes the arrival of immigrants of other religions. "Long live the sound of bells! Not to those who want to make us change our way of praying. Whoever comes to our country must say 'thank you', 'please' and respect what we are. Let's not be a people of fools, "said the candidate of the League, whose campaign slogan has a strong religious weight: 'I believe'.
The last to appear on stage was Meloni, who was introduced by a well-known actor as a "mother" and a "woman" who is breaking glass ceilings in Italian and European politics. The FdI candidate, who had said on another occasion that she planned to govern "as a child is raised", this time forgot her maternal appeals by appealing to fear. Responding to the fear that part of the electorate may feel in the face of the possible victory of a party with post-fascist origins, Meloni made a list of all those who, according to her, do have to start trembling, because it is going to end their privileges. She spoke, of course, of the left, of foreigners who make "unfair competition" to 'Made in Italy' and of the "slave-owners of the third millennium" who transport migrants and refugees to Italy across the Sicilian Channel.
He also responded to those who bet on a short experience of the conservative alliance in power, something usual in a country whose executives last an average of just over 13 months. "We will build a solid and united government that will last 5 years," he said, repeating an idea that Salvini had already commented on earlier, who promised to "govern well and together for 5 years."
Meloni, Salvini and Berlusconi promise 5 years of stability in Italy
& Latest News Update
I have tried to give all kinds of news to all of you latest news today 2022 through this website and you are going to like all this news very much because all the news we always give in this news is always there. It is on trending topic and whatever the latest news was
it was always our effort to reach you that you keep getting the Electricity News, Degree News, Donate News, Bitcoin News, Trading News, Real Estate News, Gaming News, Trending News, Digital Marketing, Telecom News, Beauty News, Banking News, Travel News, Health News, Cryptocurrency News, Claim News latest news and you always keep getting the information of news through us for free and also tell you people. Give that whatever information related to other types of news will be
Meloni, Salvini and Berlusconi promise 5 years of stability in Italy
& More Live News
All this news that I have made and shared for you people, you will like it very much and in it we keep bringing topics for you people like every time so that you keep getting news information like trending topics and you It is our goal to be able to get
all kinds of news without going through us so that we can reach you the latest and best news for free so that you can move ahead further by getting the information of that news together with you. Later on, we will continue
to give information about more today world news update types of latest news through posts on our website so that you always keep moving forward in that news and whatever kind of information will be there, it will definitely be conveyed to you people.
Meloni, Salvini and Berlusconi promise 5 years of stability in Italy
& More News Today
All this news that I have brought up to you or will be the most different and best news that you people are not going to get anywhere, along with the information Trending News, Breaking News, Health News, Science News, Sports News, Entertainment News, Technology News, Business News, World News of this made available to all of you so that you are always connected with the news, stay ahead in the matter and keep getting today news all types of news for free till today so that you can get the news by getting it. Always take two steps forward
Credit Goes To News Website – This Original Content Owner News Website . This Is Not My Content So If You Want To Read Original Content You Can Follow Below Links