By Yang Cheng-yu and William Hetherington / Staff Reporter, with Staff Writer
The number of registered domestic dogs in Taiwan fell by nearly 500,000 in five years, figures from the Animal Industry Department of the Council of Agriculture showed.
The number of pet dogs dropped from 1.7 million to 1.23 million between 2017 and 2021, while the number of pet cats increased by 20 percent, deputy head of the department Chiang Wen-chuan (江文全) said Thursday. ).
"It could be that people are finding cats easier to care for, and that is driving a change in pet adoption patterns," he said.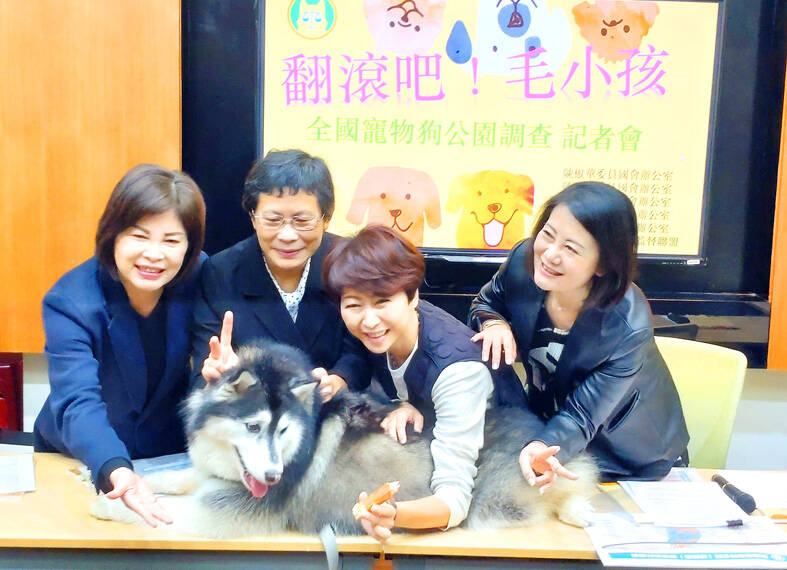 Photo: Yang Cheng-yu, Taipei Times
Chiang made the remarks at a Taiwan Animal Protection Monitoring Network event to discuss nationwide access to dog parks. The conference was also attended by lawmakers from the Democratic Progressive Party Rosalia Wu (吳思瑤), Chen Ting-fei (陳亭妃), Lai Hui-yuan (賴惠員) and Mark Ho (何志偉), as well as New Power Party chairwoman Chen Jiau -hua (陳椒華).
The network's secretary general, Ho Tsung-hsun (何宗勳), said there are 86 dog parks in Taiwan, but they are unevenly distributed, mostly in Taipei, New Taipei City and Taoyuan.
Taipei has the best park-to-dog ratio, with one park for every 6,600 dogs, he said.
"We hope to increase the number to one park for every 4,000 dogs in each of the six special municipalities," he said.
In other counties and municipalities, the goal is one park for every 10,000 dogs, he added.
"Residents have often opposed dog parks in their communities, so the government should make proposals and let the communities decide," he said.
"Communities also need to help maintain the parks," he added. "The government can't do it alone."
Another problem is that there are no standards for the design of dog parks, Ho Tsung-hsun said, adding that pet advocates have urged Taipei to help draft standards that can be used by local governments across the country. .
Local public works departments should be tasked with maintaining dog parks, given their superior resources, he said.
The council should provide financial and administrative assistance in creating dog parks, Lai said.
Wu said parks often don't have enough shade to give dogs and owners respite from the hot weather, and water-saving measures are lacking in parks.
Chen Jiau-hua said parks could also be more environmentally friendly by eliminating plastic bag dispensers and requiring owners to bring their own bags to clean up after their dogs.
Comments will be moderated. Keep comments relevant to the article. Comments containing abusive and obscene language, personal attacks of any kind, or promotion will be removed and the user will be banned. The final decision will be at the discretion of the Taipei Times.