Guerrilla "sub-advertisers" have targeted BMW and Toyota with a fake ad campaign they say reveals the truth behind automakers' claims to go green.
As the European Motor Show opened in Brussels for its 100th anniversary over the weekend, climate activists hijacked more than 400 billboards and bus shelters in Belgium, France, Germany and England, denouncing the companies.
Billboards lampooning manufacturers' advertising messages highlighted what activists describe as deceptive advertising and aggressive lobbying tactics used by Toyota and BMW.
The posters have been installed on billboards in recent days in a series of guerrilla actions by activists from Subvertisers International, Brandalism and Extinction Rebellion.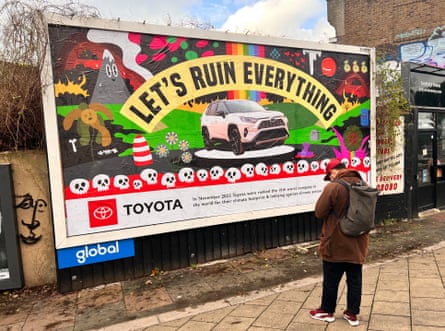 Fake BMW advertisements were posted on the London Underground and at bus shelters showing a family of crash test dummies surrounded by smoke, with the message: "When we test our emissions, the test dummy is you."
A billboard in Brighton was gripped by a vision of a cartoon climate dystopia, complete with dead animals, toxic waste and burning forests, in the middle of which was a Toyota 4×4. Above it was the slogan: "Let's ruin everything."
In a stripe at the bottom, small print referencing a study by think tank InfluenceMap read: "In November 2022, Toyota was ranked the 10th worst company in the world for its climate footprint and lobbying against climate action. ".
In London, another poster taped to a billboard contrasted the clean image of a Toyota 4×4 with the dirty reality of driving on a congested city street. It read: "Beyond Zero Toyota means whipping gas guzzlers for years to come."
Tona Merriman, a spokeswoman for Brandalism, said: "Toyota has pushed its 'Beyond Zero' sustainability announcements while lobbying governments around the world to weaken air quality plans and threatening legal action to protect its profits. for a habitable climate. Their ads are misleading."
In response to the criticism, Toyota said it had been working to reduce its environmental impact for decades, in areas including greenhouse gases, air quality, water and material reduction, reuse and recycling, and biodiversity. The company said it was committed to carbon neutrality across all of its global operations by 2050 and in Europe by 2034, and that its targets had been externally verified. It said it was "committed" to eliminate CO2 emissions from new cars sold in Europe by 2035.
Meanwhile, a combination of electric and conventional combustion engine vehicles was the only pragmatic solution "to reduce carbon emissions as much as possible and as soon as possible," Toyota said.
"We believe that the enemy is carbon, not a particular technology. Currently, not everyone has access to ZEV [zero-emission vehicles] due to a lack of infrastructure or other market barriers and we believe that giving people access to multiple technologies is a more inclusive path to carbon neutrality.
"That's why we offer battery electric vehicles and fuel cell electric vehicles and hybrids and plug-in hybrids. We call this the 'power of y' because rarely one size fits all when considering the diversity of customer needs.
"This will allow us to significantly decarbonize society now, by making all electrified technologies available to meet the needs of customers everywhere."
BMW did not respond to a request for comment.
Brandalism said the pan-European sub-advertising actions were a call for more government regulation of "environmentally harmful products" to prevent polluters from making "misleading green claims".
"Toyota and BMW use clever marketing campaigns to promote large SUV models that clog urban neighborhoods," Merriman added. "Electric SUVs are not a solution: they are too large for most parking spaces, and their tall bumper size and excessive weight present a greater risk to pedestrians, especially children, involved in highway collisions." .