Corona quick test for at home: How to use the test & More Latest News Here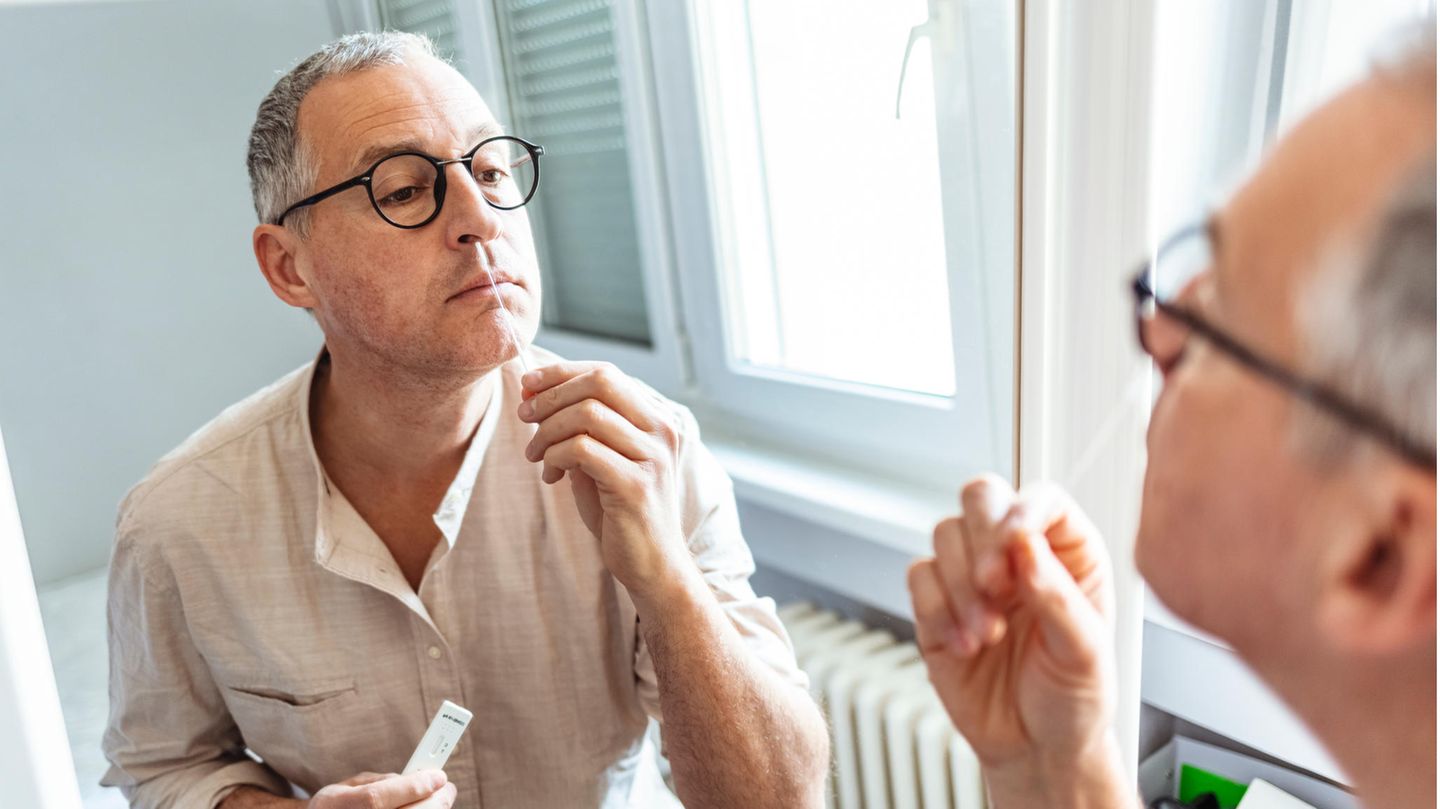 self control
Corona rapid test for at home: tips for use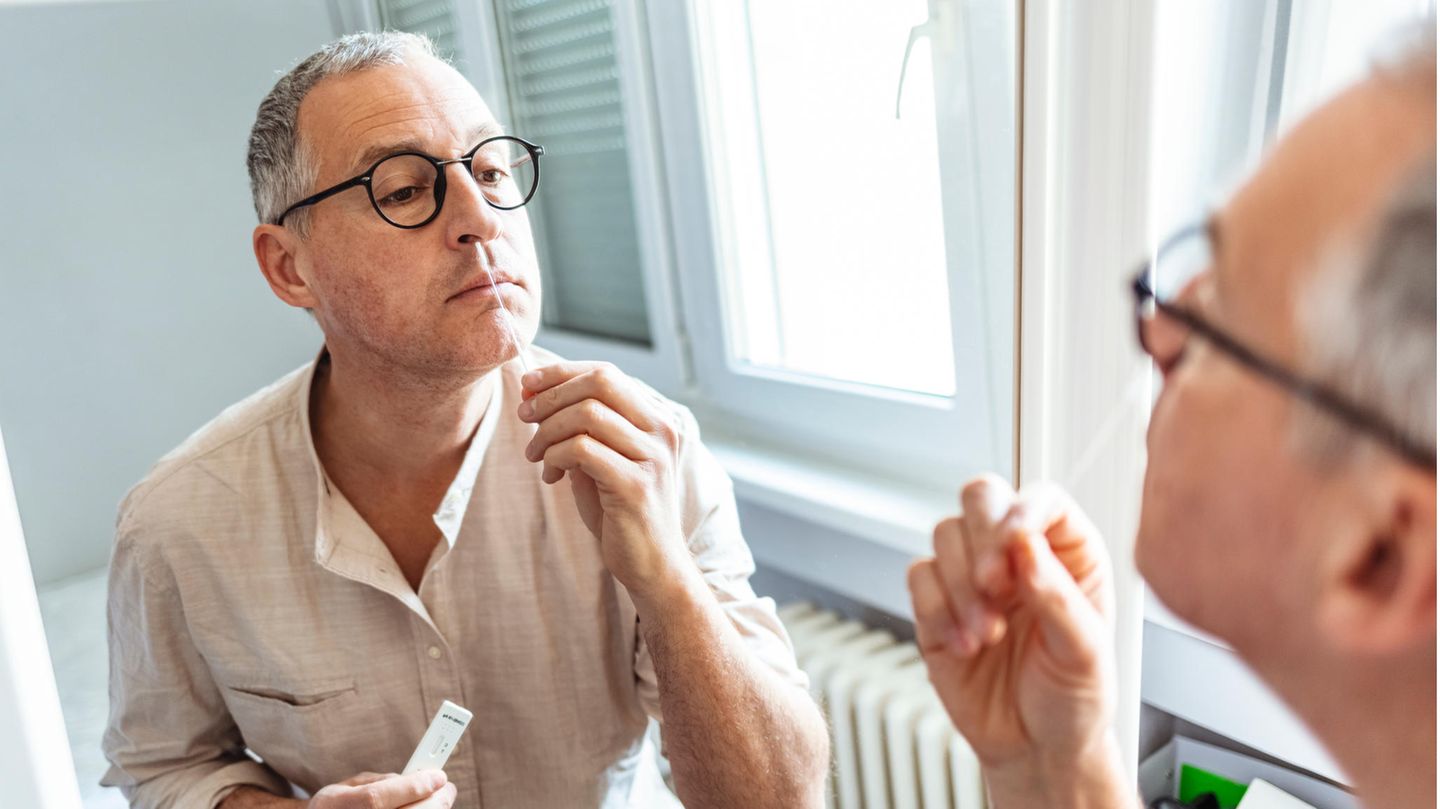 The corona self-test for at home has been officially approved since February 24, 2021. The Federal Institute for Drugs and Medical Devices has now approved various variants for laypersons to use themselves. Exactly which ones, where they are already available and how to carry out a self-test correctly is explained here.
The Corona self-test has been available for free sale since March 2021: Aldi was the first discounter in Germany to give its customers access. Rossmann and dm, who offer corona self-tests in their branches as well as online, provided even more supplies, as did Lidl and Tchibo and online pharmacies such as Pharmeo and Aponeo. Even Amazon is now conducting rapid tests. But how exactly do they work? And which variants has the Federal Institute for Drugs approved? We have summarized the most important questions and answers for you below.
1. Which corona self-tests have been approved?

The Federal Institute for Drugs and Medical Devices (BfArM) has now released countless corona self-tests for home use. In this list of special approvals for tests for self-application by laypersons you will find all products that can now officially be carried out in your own four walls without medical personnel.
2. What must be considered when buying?

With the release of corona self-tests for private use, the risk increases that there will soon be many counterfeits on the market – in addition to the official special approvals. For this reason, new products such as respirators should have a CE mark. This is awarded by TÜV or Dekra, for example, and means that the protection and quality standards applicable in Europe have been complied with. The Federal Institute for Drugs and Medical Devices provides the following information: "The designation for self-application by laypersons requires a completed conformity assessment procedure in accordance with IVDD 98/79/EC Annex III point 6 with the involvement of a notified body (recognizable by the 4-digit identification number of the notified body involved). Place next to the CE mark, it must be specified both on the outer packaging and in the instructions for use) or a special approval of the BfArM according to § 11 paragraph 1 Medical Devices Act (MPG)". In other words, a corona self-test must either have CE certification or special approval.
3. How reliable is the Corona self-test?

It is important for you to know that a corona self-test is not as precise as a PCR test, which may only be carried out by trained personnel. The result is a snapshot and does not give you 100% certainty that you are not actually infected. The over-the-counter tests do not recognize the genetic material of the virus (RNA), but rather antigens – i.e. protein fragments (proteins) of the pathogen. Nevertheless, a self-test makes sense because it can significantly reduce the risk of unknowingly infecting other people. This is also shown by a study by the Berlin Charité on antigen tests carried out by laypersons last year. The result was that 33 out of 40 people infected with corona could be identified.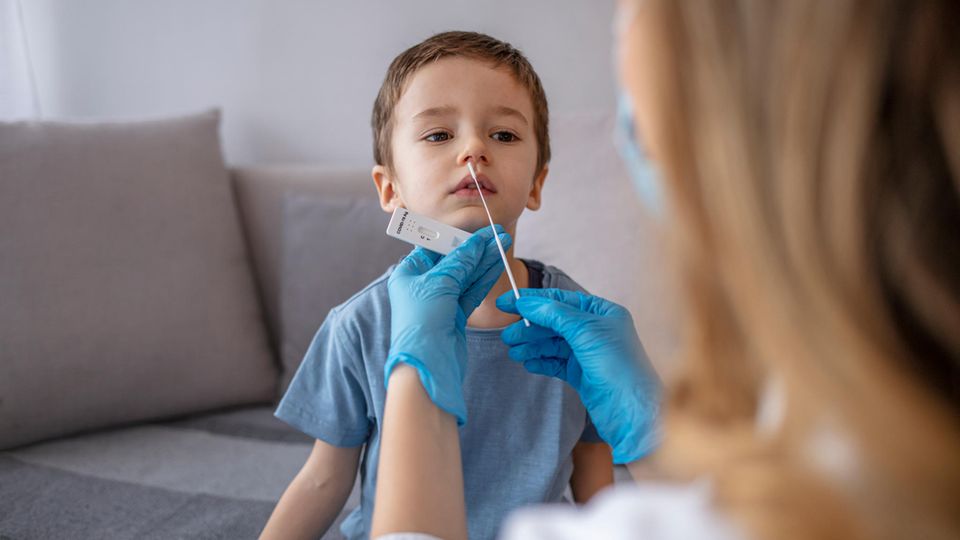 4. For whom is the Corona self-test suitable?

The self-tests were developed in such a way that they can be used by laypersons – i.e. people who have not been trained or medically trained. It should be so easy to use that even people with disabilities or children can understand how to carry it out. The tests can best detect an infection just before the onset of symptoms or with the onset of symptoms. A corona self-test gives you and those around you more security – for example before a planned family visit. However, the distance and hygiene rules must continue to be observed even with a negative test result.
5. How is a corona self-test used?

A corona self-test, which is now available in many online shops and pharmacies, is suitable for the so-called nasal swab. How exactly the test must be used is described in detail in the respective manufacturer's instructions for use. In any case, it is important that you follow the individual steps exactly – the more precise the implementation, the more accurate the test result. After you have done the rapid corona test, you usually have to wait 15 to 20 minutes before you see the result.
The following is an example of how to use the Hotgen Coronavirus 2019-nCoV Antigen Self-Test from aponeo apply correctly:
By twisting the cap, you open the extraction buffer to pour the contents completely into the extraction tube.

Hold the swab between your index finger and thumb so that you can insert the pristine soft tip up to 1 inch (from the rim of your nostril) into your nostril. Now rotate the swab three to four times in both directions so that both the mucosa and cells are picked up. Hold that nostril for a moment before moving the same swab into the other nostril and repeating the process.

Now insert the swab into the extraction tube with the liquid and rotate it several times – and let it rest for a minute. Then squeeze the tube to squeeze the remaining solution out of the swab. Now dispose of the swab and close the tube with the cap (incl. dropper).

Before using the test kit, it should be brought to room temperature. You can then open the pouch and take out the cassette. Place them on a flat surface and start the Corona self-test without hesitation.

Open the extraction tube and carefully add three drops to the sample well (S). Make sure that no air bubbles form on it. Now wait 20 minutes before taking the test result from the sample

The result: if two colored lines appear, one in the control area (C) and one in the test area (T), the test is valid and positive. If only one color line appears in the control area (C) and none in the test area (T), the test is valid and negative. If no color line appears in the control area (C), the test is invalid and invalid.
6. What to do if the corona test is positive?

If the corona self-test shows you a positive result, you should first keep calm. In order to be sure that you have really been infected, a PCR test must be carried out. To do this, call the health department or your family doctor and make an appointment – please do not visit a public test station. After you have been tested, you must immediately quarantine yourself pending the final test result. If you have tested positive for the corona virus again, the quarantine conditions apply to you. Here you will find an overview of how to behave in the event of a positive test result.
If, on the other hand, the result is negative, this is unfortunately still no guarantee that you have not become infected. However, the probability decreases. Nevertheless, it is important that you continue to take care of yourself and your environment.
Another important note: A corona self-test does not replace the AHA-L rules. In order to protect ourselves and our surroundings to the best of our knowledge and belief, we must continue to adhere to all applicable hygiene measures.
Sources: BfArM, Apotheken Umschau, Robert Koch Institute
You might also be interested in:

This article contains so-called affiliate links. There is more information here.
branch
Corona quick test for at home: How to use the test
& Latest News Update
I have tried to give all kinds of news to all of you latest news today 2022 through this website and you are going to like all this news very much because all the news we always give in this news is always there. It is on trending topic and whatever the latest news was
it was always our effort to reach you that you keep getting the Electricity News, Degree News, Donate News, Bitcoin News, Trading News, Real Estate News, Gaming News, Trending News, Digital Marketing, Telecom News, Beauty News, Banking News, Travel News, Health News, Cryptocurrency News, Claim News latest news and you always keep getting the information of news through us for free and also tell you people. Give that whatever information related to other types of news will be
Corona quick test for at home: How to use the test
& More Live News
All this news that I have made and shared for you people, you will like it very much and in it we keep bringing topics for you people like every time so that you keep getting news information like trending topics and you It is our goal to be able to get
all kinds of news without going through us so that we can reach you the latest and best news for free so that you can move ahead further by getting the information of that news together with you. Later on, we will continue
to give information about more today world news update types of latest news through posts on our website so that you always keep moving forward in that news and whatever kind of information will be there, it will definitely be conveyed to you people.
Corona quick test for at home: How to use the test
& More News Today
All this news that I have brought up to you or will be the most different and best news that you people are not going to get anywhere, along with the information Trending News, Breaking News, Health News, Science News, Sports News, Entertainment News, Technology News, Business News, World News of this made available to all of you so that you are always connected with the news, stay ahead in the matter and keep getting today news all types of news for free till today so that you can get the news by getting it. Always take two steps forward
Credit Goes To News Website – This Original Content Owner News Website . This Is Not My Content So If You Want To Read Original Content You Can Follow Below Links