At least 17 dead in six days of protests in Iran | The government cut off access to social networks to discourage protesters & More Latest News Here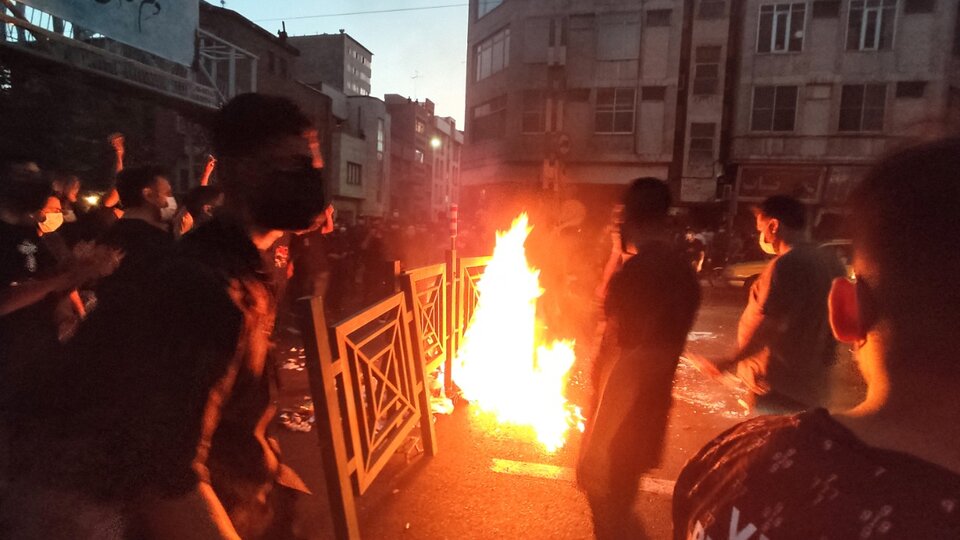 Iranian state television announced this Thursday 17 deaths since the beginning of the demonstrations for the death of Mahsa Amini. For its part, The NGO Human Rights of Iran (IHR) reported the death of 31 people at the hands of the security force. The United States imposed sanctions on the Iranian morality police.
The NGO IHR published a statement denouncing the number of 31 people who died demonstrating for the suspicious death of the 22-year-old girl. "The people of Iran have taken to the streets to achieve their fundamental rights and human dignity and the government is responding to their peaceful protest with bullets."its director Mahmood Amiry-Moghaddam said in a statement, after six consecutive days of protests.
IHR is charged with empowering Iranian civil society to fight for their rights based on the Universal Declaration of Human Rights. "The Islamic Republic's repressive forces are shooting protesters with live ammunition and buckshot," the IHR director said. "The international community's condemnation and expression of concern is not enough. The international community and all those who adhere to human rights must now support the demands of the Iranian people."the organization tweeted along with images showing Iranian security forces cracking down on protesters.
the official version
Iranian state television announced Thursday that at least 17 people were killed in the protests shaking Iran over the death of Amini, who was arrested for improperly wearing the veil. "Seventeen people have been killed, including policemen, in the incidents of recent days," said the Islamic Republic of Iran Broadcasting (IRIB), which assured that it is their count and that they are not government data.
So far the authorities have confirmed the deaths of eight people, including three members of the security forces. The protests began on Friday after learning of Amini's death after being arrested by the morality police for wearing the veil wrong and have spread throughout the country.
With shouts such as "Justice, freedom and no to compulsory hijab", "Women, life, freedom" or "Death to the dictator", the protesters showed their outrage in at least 20 cities in the countryin protests in which the violence intensified with the security forces resorting to riot gear.
In the clashes this Wednesday night, protesters burned at least two police stations and several vehicles. Some videos shared on Twitter by activists and journalists showed protests in many cities across the country on Wednesday night. Other videos showed women burning veils, images that became symbols of the protests.
In the northwestern city of Rasht, an elderly woman marched without a veil while shouting "Death to the dictator," one of the videos showed. "Iranians, young and old, have stood up for their human dignity and against the brutal regime of Ali Khamenei. The authorities responded with widespread violence. World leaders must show their support for the people", published the director of IHR.
Internet is prohibited
The government on Wednesday night blocked the mobile internet almost completely and limited applications such as WhatsApp and Instagram in an apparent attempt to control the protests. The state of communications improved this Thursday morning, but in the afternoon it began to fail again. Social networks, especially Twitter, are playing an important role, with protesters posting hundreds of videos on them.
Faced with this situation, Iran's powerful Revolutionary Guard on Thursday described the protests as "sedition" and asked the judiciary to prosecute those who spread "rumors and lies" on social media and in the streets. A petition to which the ultraconservative newspaper joined kayhan, whose director is chosen by the supreme leader of Iran, Ali Khamenei, who criticized the Judiciary for apparently not convicting anyone for the protests. "Show no mercy to these criminals," the newspaper asked.
Amini was arrested on Tuesday of last week by the so-called Morale Police in Tehran, where she was visiting, and was taken to a police station to attend an hour of re-education for wearing the veil wrong. She died three days later in a hospital where she arrived in a coma after suffering a heart attack, which authorities attributed to health problems, something the family denied.
His death managed to summon thousands of Iranians through pain and empathy, unlike other occasions in which the demonstrations were reduced to fragmented social groups mobilized by the economy.
US Punishes Iranian Morale Police
The United States on Thursday imposed economic sanctions on Iran's morale police after Amini's death in custody. The US Treasury said the morality police were responsible for Amini's death and based the sanctions on abuse and violence against Iranian women and violating the rights of peaceful Iranian protesters.
Washington took the sanctions step after violent protests erupted across Iran. Women protesters burned veils and denounced the persecution they are subjected to by the government.
"Mahsa Amini was a brave woman whose death in police custody was another act of brutality by the Iranian regime's security forces against her own people," US Treasury Secretary Janet Yellen said. "We condemn this unconscionable act in the strongest terms and call on the Iranian government to end its violence against women and its violent crackdown on freedom of expression and assembly," it said in a statement.
In similar terms, the US Secretary of State, Antony Blinken said that the Iranian government must end its systematic persecution of women and allow peaceful protests. In a statement, he added that the United States will continue to express its support for human rights in Iran and hold accountable those who violate them.
The Treasury sanctions are intended to freeze assets that the designees may have under US jurisdiction and prohibit any US individual or company, including international banks with operations in the country, from doing business with them, limiting their access to US networks. global financials.
Report: Sophia Troiano
At least 17 dead in six days of protests in Iran | The government cut off access to social networks to discourage protesters
& Latest News Update
I have tried to give all kinds of news to all of you latest news today 2022 through this website and you are going to like all this news very much because all the news we always give in this news is always there. It is on trending topic and whatever the latest news was
it was always our effort to reach you that you keep getting the Electricity News, Degree News, Donate News, Bitcoin News, Trading News, Real Estate News, Gaming News, Trending News, Digital Marketing, Telecom News, Beauty News, Banking News, Travel News, Health News, Cryptocurrency News, Claim News latest news and you always keep getting the information of news through us for free and also tell you people. Give that whatever information related to other types of news will be
At least 17 dead in six days of protests in Iran | The government cut off access to social networks to discourage protesters
& More Live News
All this news that I have made and shared for you people, you will like it very much and in it we keep bringing topics for you people like every time so that you keep getting news information like trending topics and you It is our goal to be able to get
all kinds of news without going through us so that we can reach you the latest and best news for free so that you can move ahead further by getting the information of that news together with you. Later on, we will continue
to give information about more today world news update types of latest news through posts on our website so that you always keep moving forward in that news and whatever kind of information will be there, it will definitely be conveyed to you people.
At least 17 dead in six days of protests in Iran | The government cut off access to social networks to discourage protesters
& More News Today
All this news that I have brought up to you or will be the most different and best news that you people are not going to get anywhere, along with the information Trending News, Breaking News, Health News, Science News, Sports News, Entertainment News, Technology News, Business News, World News of this made available to all of you so that you are always connected with the news, stay ahead in the matter and keep getting today news all types of news for free till today so that you can get the news by getting it. Always take two steps forward
Credit Goes To News Website – This Original Content Owner News Website . This Is Not My Content So If You Want To Read Original Content You Can Follow Below Links