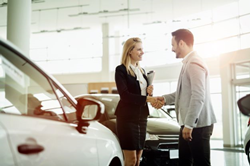 WINDER, Ga. (PRWEB)
January 16, 2023
Getting approved for a car loan can sometimes become a tedious process. An applicant's credit history can directly affect auto loan approval. Drivers near the Winder, Georgia area can now get pre-approved for auto loans online at Akins Ford, a well-known local auto dealer.
At Akins Ford, finance specialists work to find a tailor-made finance package that perfectly fits the needs of their clients. The dealership has partnered with various financial institutions, banks, and lenders, allowing it to obtain loan approvals for most customers, regardless of credit status. To begin the process, interested parties must complete a simple and secure online application form available on the dealer's website. The applicant needs to press the submit button once the basic details are filled in the form. A member of the finance team will contact the applicant directly to guide them through the rest of the process once the application is submitted. Any personally identifiable information collected through this process will be used by Akins Ford personnel solely for the purpose of facilitating a business relationship or transaction.
Customers are encouraged to visit the Akins Ford dealership located at 220 West May St., Winder, GA for an immersive shopping experience. The dealership aims to offer a hassle-free car buying procedure in a safe, comfortable and friendly environment. Prospective buyers can contact Akins Ford dealer staff at 770-867-9136.
Share the article on social networks or send an email: