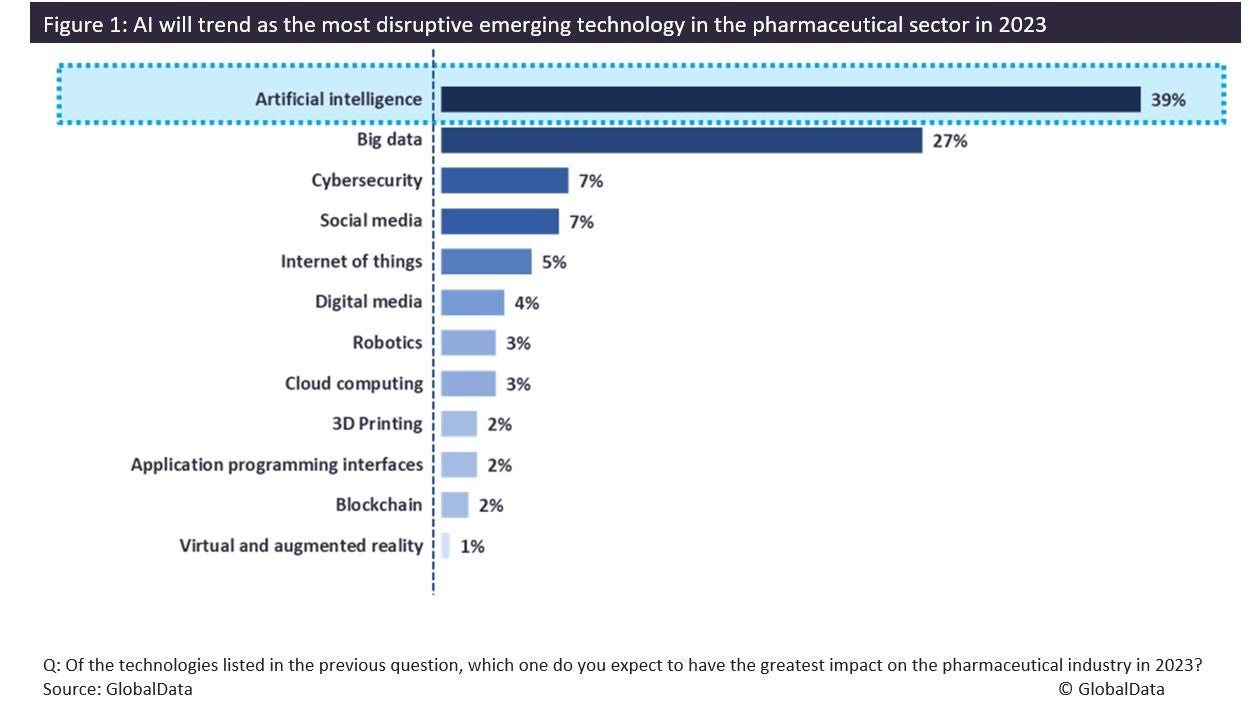 While the biopharmaceutical industry has been affected and pressured by various factors, including the Covid-19 pandemic, inflation, the Ukraine-Russia war, ongoing supply chain issues, and a challenging economic environment, the collaboration between pharmaceutical companies and providers of emerging technologies continues to grow. , especially in the field of research and development (R&D), offering some resilience in times of geopolitical and economic shocks.
One such emerging technology, artificial intelligence (AI), is expected to play a significant role in the pharmaceutical sector by 2023. According to survey data published in GlobalData's The State of the Biopharmaceutical Industry – 2023 According to the report, 39% of healthcare industry professionals surveyed believed that AI would become the most disruptive emerging technology in the industry this year (Figure 1).
AI has been voted the most disruptive emerging technology every year since 2020, according to poll tracker. The report also suggested that Big Data was thought to be the most important partner for AI, in terms of bringing technology-related changes to the pharmaceutical sector (Figure 2). Together, AI and Big Data are seen as key solutions to help save time, labor, and financial costs in the pharmaceutical value chain, which consists of many complex processes and functions.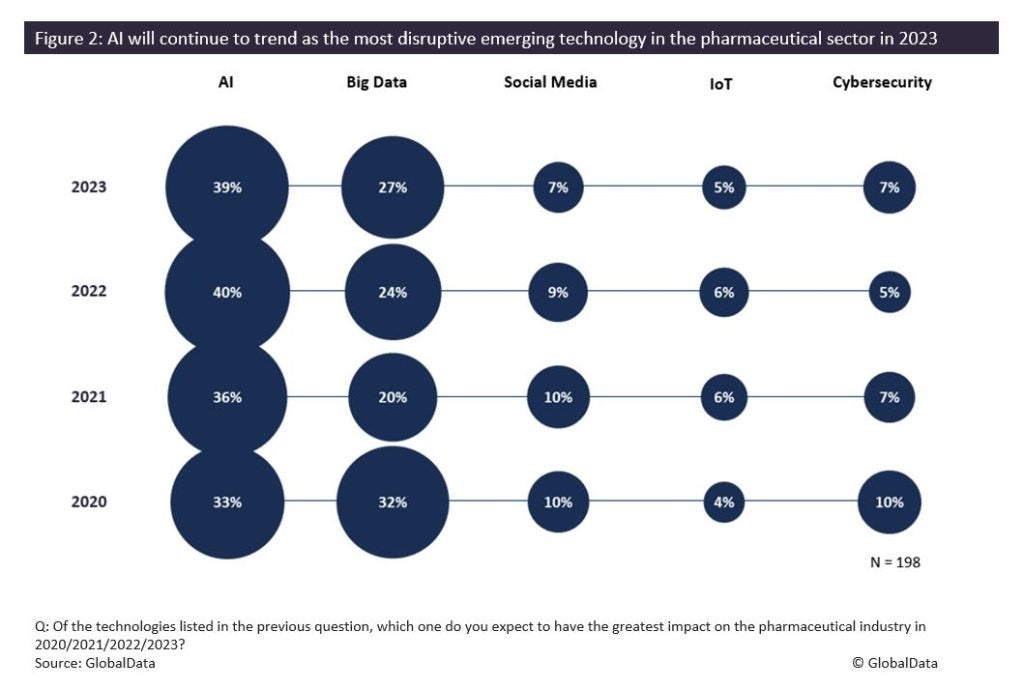 With the increase in successful AI use cases, the industry has been gaining confidence in emerging technologies. Recent cases in the pharmaceutical sector include Poolbeg Pharma finding more than one AI respiratory syncytial virus (RSV) vaccine candidate by analyzing a large amount of early-stage clinical data to prioritize candidates and reposition them as novel treatments for HIV infection. RSV. In addition, Insilico Medicine's INS018_055, an IA-designed candidate, has produced positive first-line results in its Phase I clinical trial for the treatment of idiopathic pulmonary fibrosis (IPF). In addition to collaborating with AI technology providers, pharmaceutical companies are also engaging in vertical integration. For example, BioNTech agreed to acquire British AI startup InstaDeep for up to $682 million.
AI is still in the early stages of growth, but its potential is immense. With more pharmaceutical companies leveraging AI technology to improve processes within their value chains, AI will continue to evolve over time. This technology will continue to gain momentum and will see much greater acceptance for the foreseeable future.